Playdate with the Bearcats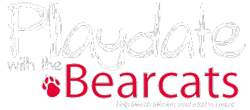 Playdate with the Bearcats
February 12, 2017
A family-fun day for kids of all ages! Hang out with UC athletes and enjoy the amenities of the beautiful UC Rec Center including swimming, rock-climbing and basketball. Face painting & games for younger kids, too!
Because of Mitch's relationship with the UC Bearcat football team, he has had the chance to hang out and play games with the players. . . sounds fun, huh? Well, come to Playdate with the Bearcats and you can have the same experience!  In addition to the UC football team, athletes from many UC sports are will be there.
Playdate with the Bearcats, Mitch Mission's signature event, is a fun-filled family event that gives UC fans a chance to get up close and personal with their favorite UC football players.
What kid wouldn't want a chance to shoot hoops with some of their favorite UC athletes? How about a game of cornhole? Autographs anyone? Or, challenge your friends to "minute to win it" type games of skill.
Younger kids can exchange high-fives with the UC Bearcat Mascot, play fun carnival games and get their face-painted by a UC athlete.
Adults, we did not forget about you.  Our food court is a great place for socializing and you will have fun bidding on fabulous items in the silent auction and raffle.  When we say family fun, we mean it!
Besides all of that, Playdate participants have access to amenities of the beautiful UC Rec Center, including swimming in the lazy river (don't forget to bring a towel!), rock-climbing and basketball.  
How much for all of this family fun?
Only $20 per person or $60 for a family of 4 . . . what a deal!
And, all the proceeds help Mitch's Mission send kids with cancer and blood diseases to summer camp.
If you really want to help (and have even more fun), don't forget to stuff your pockets with some extra cash for the silent auction, raffle and food tickets.  Or, make it easy and pay for all of your tickets ahead of time when you pre-register.
Come play and send a kid with cancer to camp!
How to get there

Click here for directions to UC

Where to park

Click here for a map of the UC campus

The best place to park is the Woodside Garage off of Martin Luther King drive. Once you leave the garage, walk up the hill into the center of campus and follow the signs to the UC Rec Center. . . we promise, there will be lots of signs!

What to bring

Your whole family and 10 best friends, tennis shoes, bathing suit and towel, money for the raffle and things you want autographed.